Details
EC frameless 90 flat, brushless, 260 W
Part number 542099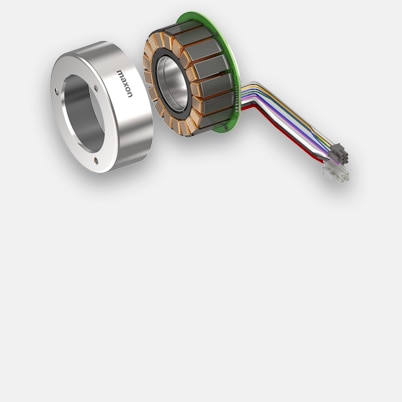 For more information, please contact our sales support with the request form. Thank you
Specifications
Technical illustrations
Information: Drawings are not to scale.
Values at nominal voltage
Nominal voltage
30 V
No load speed
2080 rpm
No load current
490 mA
Nominal speed
1770 rpm
Nominal torque (max. continuous torque)
988 mNm
Nominal current (max. continuous current)
7.06 A
Stall torque
14100 mNm
Stall current
103 A
Max. efficiency
87 %
Characteristics
Terminal resistance
0.29 Ω
Terminal inductance
0.369 mH
Torque constant
136 mNm/A
Speed constant
70.2 rpm/V
Speed / torque gradient
0.15 rpm/mNm
Mechanical time constant
8.32 ms
Rotor inertia
5300 gcm²
Thermal data
Thermal resistance housing-ambient
1.74 K/W
Thermal resistance winding-housing
1.82 K/W
Thermal time constant winding
57 s
Thermal time constant motor
258 s
Ambient temperature
-40...+100 °C
Max. winding temperature
+125 °C
Mechanical data
Bearing type
keine
Max. speed
5000 rpm
Axial play
-1 mm, at radial load < 0 N
-1 mm, at radial load > 0 N
Max. axial load (dynamic)
0 N
Max. force for press fits (static)
0 N
(static, shaft supported)
0 N
Max. radial load
0 N, 10 mm from flange
Other specifications
Number of pole pairs
11
Number of phases
3
Number of autoclave cycles
0
Product
Weight
814 g
Description
The EC frameless motors are BLDC motor kits. Rotor and stator are delivered separately, without bearings and motor shaft, and connected only during assembly. The flat design, the high torques and plenty of space for cable glands allow a high level of integration into your application.
Videos