Details
Recommended
RECOMMENDED PRODUCT
Available on short notice!Our recommended products are ready for shipping within 2 – 11 working days.
EC 60 flat Ø60 mm, brushless, 200 W, with Hall sensors and cables |
ventilated
Part number 642221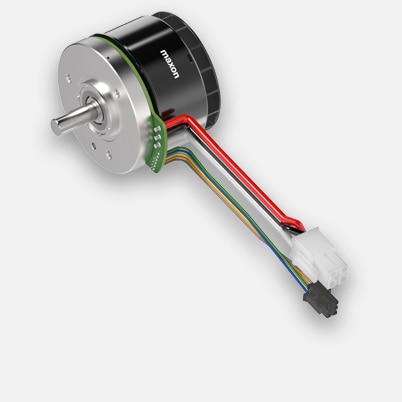 Price scales
Quantity
Price per unit
Prices excluding VAT and shipping costs
1-4
€139.00
5-19
€122.18
20-49
€102.09
from 50
On request
Specifications
Technical illustrations
Values at nominal voltage
Nominal voltage
24 V
No load speed
4300 rpm
No load current
497 mA
Nominal speed
3240 rpm
Nominal torque (max. continuous torque)
536 mNm
Nominal current (max. continuous current)
9.28 A
Stall torque
4300 mNm
Stall current
81.9 A
Max. efficiency
85 %
Characteristics
Terminal resistance
0.293 Ω
Terminal inductance
0.279 mH
Torque constant
52.5 mNm/A
Speed constant
182 rpm/V
Speed / torque gradient
1.01 rpm/mNm
Mechanical time constant
8.83 ms
Rotor inertia
832 gcm²
Thermal data
Thermal resistance housing-ambient
1.22 K/W
Thermal resistance winding-housing
0.843 K/W
Thermal time constant winding
9.19 s
Thermal time constant motor
44 s
Ambient temperature
-40...+100 °C
Max. winding temperature
+125 °C
Mechanical data
Bearing type
ball bearings
Max. speed
6000 rpm
Axial play
0 mm, at radial load < 15 N
0.14 mm, at radial load > 15 N
Max. axial load (dynamic)
12 N
Max. force for press fits (static)
170 N
(static, shaft supported)
8000 N
Max. radial load
112 N, 5 mm from flange
Other specifications
Number of pole pairs
7
Number of phases
3
Number of autoclave cycles
0
Product
Weight
375 g
Description
The flat design of the brushless EC flat motors makes them the perfect solution for many applications. The thought-through, simple design makes it possible to largely automate the manufacturing—this is reflected by the economical price.
The fan wheel provides active cooling during operation, which permits very high continuous torques.
Videos