Details
NRND
RE-max 17 Ø17 mm, Graphite Brushes, 4.5 Watt, with terminals
Part number 216000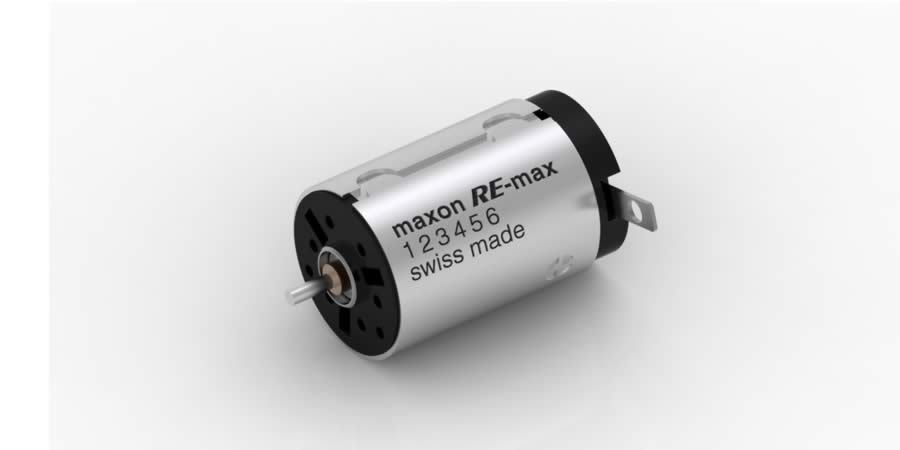 Price scales
Quantity
Price per unit
Prices excluding VAT and shipping costs
1-4
€75.91
5-19
€69.36
20-49
€63.46
from 50
On request
NRND (Not Recommended for New Designs): These products continue to be available, but are not recommended for new projects. Our sales team will be happy to suggest alternatives.
Specifications
Technical illustrations
Information: Drawings are not to scale.
Values at nominal voltage
Nominal voltage
12 V
No load speed
11100 rpm
No load current
38 mA
Nominal speed
8150 rpm
Nominal torque (max. continuous torque)
3.78 mNm
Nominal current (max. continuous current)
0.41 A
Stall torque
14.7 mNm
Stall current
1.45 A
Max. efficiency
71 %
Characteristics
Terminal resistance
8.25 Ω
Terminal inductance
0.205 mH
Torque constant
10.1 mNm/A
Speed constant
946 rpm/V
Speed / torque gradient
774 rpm/mNm
Mechanical time constant
7.02 ms
Rotor inertia
0.867 gcm²
Thermal data
Thermal resistance housing-ambient
35 K/W
Thermal resistance winding-housing
12 K/W
Thermal time constant winding
7.74 s
Thermal time constant motor
343 s
Ambient temperature
-30...+85 °C
Max. winding temperature
+125 °C
Mechanical data
Bearing type
sleeve bearing
Max. speed
11900 rpm
Axial play
0.05 - 0.15 mm
Radial play
0.012 mm
Max. axial load (dynamic)
0.8 N
Max. force for press fits (static)
35 N
(static, shaft supported)
0 N
Max. radial load
1.4 N, 5 mm from flange
Other specifications
Number of pole pairs
1
Number of commutator segments
7
Number of autoclave cycles
0
Product
Weight
26 g
Description
maxon DC motors are high-quality motors equipped with powerful permanent magnets. The centerpiece of the motor is the globally patented ironless rotor. Our precious metal brushed combination ensures a high level of consistency of the low contact resistance, even after a long standstill. The motors operate with small startup voltages and extremely low levels of electrical interference.
Videos