Details
Screw Drive GP 16 S Ø16 mm, Metric spindle, M6 x 1
Part number 424233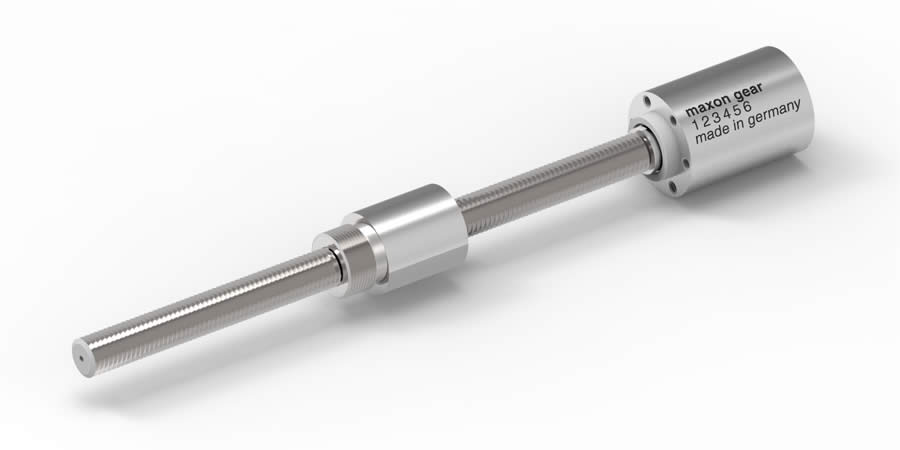 Price scales
Quantity
Price per unit
Prices excluding VAT and shipping costs
1-4
€306.64
5-19
€264.00
20-49
€234.09
from 50
On request
Specifications
Technical illustrations
Information: Drawings are not to scale.
General information
Gearhead type
GP
Outer diameter
16 mm
Version
Spindle drive with metric screw
Gearhead Data
Number of stages
2
Reduction
19 : 1
Absolute reduction
3249/169
Max. motor shaft diameter
2 mm
Max. feed velocity
10.5 mm/s
Max. feed force continuous
60 N
Max. feed force intermittent
224 N
Direction of rotation, drive to output
=
Max. efficiency
24 %
Average backlash no load
1.6 °
Mechanical positioning accuracy
0.167 mm
Mass inertia
0.05 gcm²
Gearhead length (L1)
27.35 mm
Max. transmittable power (continuous)
0.63 W
Max. transmittable power (intermittent)
0.79 W
Technical Data
Spindle length
101.5 mm
Radial play
max. 0.08 mm, 6 mm from flange
Axial play of the nut
preloaded
Max. radial load
60 N, 6 mm from flange
Max. axial load (dynamic)
60 N
Max. force for press fits
500 N
Max. continuous input speed
12000 rpm
Max. intermittent input speed
17000 rpm
Recommended temperature range
-15...+80 °C
Number of autoclave cycles
0
Product
Weight
64 g
Description
Compact, easy to configure screw drives as complete systems. With integrated axial bearing for
high axial loads. Versions with metric spindle, ball screw and trapezoidal spindle.
Videos