Details
Recommended
RECOMMENDED PRODUCT
Available on short notice!Our recommended products are ready for shipping within 2 – 11 working days.
A-max 22 Ø22 mm, Graphite Brushes, 6 Watt, with terminals
Part number 110147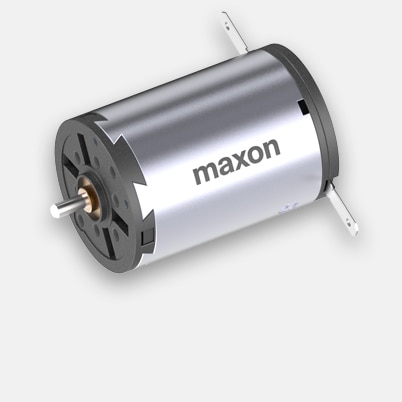 Price scales
Quantity
Price per unit
Prices excluding VAT and shipping costs
1-4
€48.64
5-19
€44.27
20-49
€40.27
from 50
On request
Specifications
Technical illustrations
Information: Drawings are not to scale.
Values at nominal voltage
Nominal voltage
12 V
No load speed
10200 rpm
No load current
45.8 mA
Nominal speed
7060 rpm
Nominal torque (max. continuous torque)
6.96 mNm
Nominal current (max. continuous current)
0.681 A
Stall torque
23.7 mNm
Stall current
2.17 A
Max. efficiency
72 %
Characteristics
Terminal resistance
5.53 Ω
Terminal inductance
0.363 mH
Torque constant
10.9 mNm/A
Speed constant
875 rpm/V
Speed / torque gradient
444 rpm/mNm
Mechanical time constant
19.9 ms
Rotor inertia
4.29 gcm²
Thermal data
Thermal resistance housing-ambient
20 K/W
Thermal resistance winding-housing
6 K/W
Thermal time constant winding
10.2 s
Thermal time constant motor
314 s
Ambient temperature
-30...+85 °C
Max. winding temperature
+125 °C
Mechanical data
Bearing type
sleeve bearing
Max. speed
9800 rpm
Axial play
0.05 - 0.15 mm
Radial play
0.012 mm
Max. axial load (dynamic)
1 N
Max. force for press fits (static)
80 N
(static, shaft supported)
0 N
Max. radial load
2.8 N, 5 mm from flange
Other specifications
Number of pole pairs
1
Number of commutator segments
9
Number of autoclave cycles
0
Product
Weight
54 g
Description
maxon A-max motors are an innovative range of high-quality DC motors, equipped with
powerful AlNiCo permanent magnets. The "heart" of our motors is the ironless maxon winding,
that has been tested millions of times over. This is the latest technology for compact,
powerful and low-inertia drives.
Videos