MAXPOS
The high-performance positioning motor controller by maxon motor.
MAXPOS 50/5 receives movement and I/O commands from a superior EtherCAT master, which carries out the process control. The extremely fast controllers and the diverse feedback options available provide the ideal conditions for the operation of permanent-magnet activated brushed and brushless DC motors in high-performance applications. Raising the bar for precision and synchronization. MAXPOS 50/5 supports CoE (CAN application layer over EtherCAT).
MAXPOS features
The Feature Chart provides a quick overview of the most important features:
Feature Chart
MAXPOS integration
The MAXPOS Application Notes Collection provides hints for integration of MAXPOS into several EtherCAT master systems and further application support topics:
Application Notes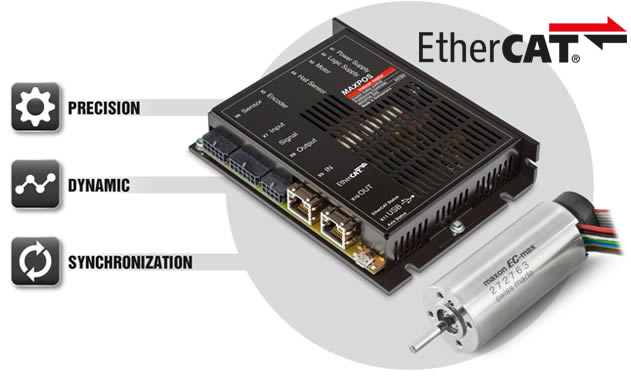 Part number 447293
For brushed DC motors with encoders and brushless DC (maxon EC) motors with Hall sensors and encoders up to 250 W.
Details
MAXPOS Setup (complete version)
Installation includes:
MAXPOS Studio 1.4 (graphical user interface)
MAXPOS firmware 0x0121
Documentation (MAXPOS Feature Chart, MAXPOS Release Notes, MAXPOS Firmware Specification, MAXPOS Application Notes Collection, Firmware Version Readme, Hardware Reference)
Download MAXPOS Setup