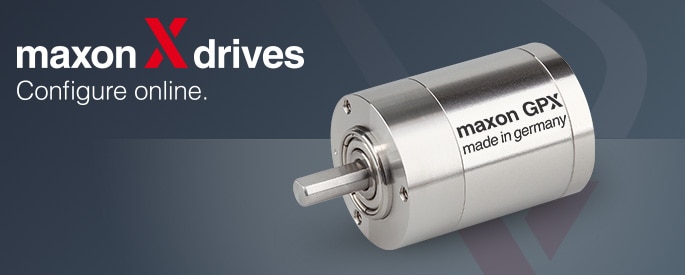 Configurable planetary gearhead
Powerful for transmission of high torques
maxon GPX gearheads feature high power transmission with a very short design. Select from several modules to fit your application: standard, ceramic, High Power, high speed, reduced noise level or reduced backlash.
Features of the maxon GPX planetary gearheads:
High torques and speeds
Short, compact design
Low noise and low backlash
Configurable online
Fast delivery
GPX standard version:
The use of metal components makes the planetary gearhead suitable for a wide range of applications.

GPX ceramic version:
Planetary gearheads with ceramic components provide superior torque capacity and durability.

GPX High Power:
A reinforced output makes the planetary gearhead suitable for the transmission of exceptionally high torques.

GPX reduced noise:
Plastic planet gears make the planetary gearhead suitable for noise-sensitive applications.

GPX reduced backlash:
Planetary gearheads with reduced backlash can be used for high precision positioning tasks.
View program in Online Shop
More configurable products